Introduction to DART Connect
DART Connect: New Service Available in Georgetown and Millsboro!
A new on-demand, microtransit service, called DART Connect, has replaced the 901 and 902 Flex routes in Georgetown and Millsboro. For the same price as a DART bus fare, customers can travel to more destinations without waiting for a bus schedule. Watch the video to learn more.
Frequently Asked Questions
DART Connect is a rideshare-like transit experience that uses smaller vehicles to provide bus service on-demand to customers. DART Connect uses the same vehicles and will be operated by the same DART drivers, while offering customers more direct, convenient and frequent trips to dozens of new destinations.
Instead of planning a trip around a bus schedule, customers can instead book a trip within minutes.
Waits are estimated to be no more than 15 minutes during service hours.
+
How do I access DART Connect?
Download the DART Connect app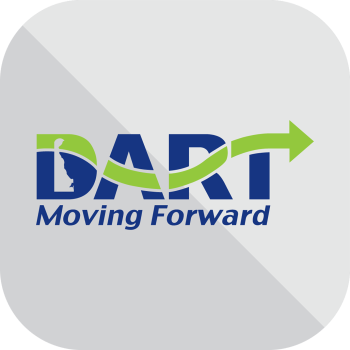 in your app store or call 1-800-652-DART, Option 3.
+
When does DART Connect operate?
Hours of operation are 5:45 am to 8 PM Monday through Friday. DART Connect will not operate on DART holidays (New Years Day, Memorial Day, 4th of July, Labor Day, Thanksgiving, Christmas).
+
How much does DART Connect cost?
The cost to use DART Connect is the same as a DART Bus fare - $2 per ride. Day, week, 30-day and 20 ride passes are available. Fares can be paid using cash or the DART Pass app. Find more info here.
+
Is wheelchair service available?
Yes, customers using a wheelchair will be picked up and dropped off as close to the customer's pickup and dropoff point as possible. Riders note the use of a wheelchair in the DART Connect app or when requesting a ride by phone.
+
Who can use DART Connect?
DART Connect is available to everyone who needs a ride in or around Georgetown, Millsboro or in between. For customers traveling in this area, it will provide first and last mile connections to residents of Georgetown and Millsboro on other DART bus routes, the 206, 212, and 303 in Georgetown, and the 215 in Millsboro. Find the schedule for these buses here.
Yes, DART Connect vehicles, like all DART buses, have bike racks on the front of the vehicle.
For more information on DART Connect:
Email DTC_DARTConnect@delaware.gov
Download the App:
Zone Map: